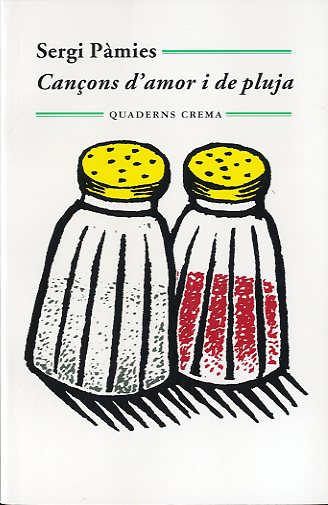 Sergi Pàmies (Paris, 1960) is one of the few contemporary Catalan authors whose works are translated into other languages, though there is only one title in English, Losing face (1993).
The publisher's description of the book reads like this:
"The 26 short stories of Cançons d'amor i de pluja [Songs of love and rain] are structured as a recital of emotions and reflections on the mature adult's vulnerability and most absurd rituals. With a precise and very intense style, Sergi Pàmies reinterprets the clichés of the archetypal romanticism and the emotional hypochondria's servitudes. His prose and tone, purified and contained, aim at a balance between causticity, vitality and melancholia. With these instruments Pàmies dips into the backwaters of love, the inherited memory's dependence, the grief for those that are absent, and the joy of writing without knowing where there is the frontier between the invention and the autobiography."
The professional critics have had this to say:
"Short stories of a brutal intensity. A book that has been thought through in all the details. Pàmies writes short books with a lot of raw material. There is not a superfluous word. The subtle and prudent moral reflection is the icing on a great story book."  Julià Guillamon, "Culturas", La Vanguardia
"In the same way that there are ambitious writers who only achieve presenting themselves as pretentious, there are others who, without any apparent sign of pretention, reach results of dizzying ambition." Ponç Puigdevall, "Quadern", El País
"A (within a pre-established order) rich, plural and diverse book. And all of this extraordinary artistic effort is garnished with an unusual mastery of the variety of tones. Pàmies has achieved to raise the bar of his literary exigency still higher. Like never before he achieved that in most of the stories all the text's sentences have got the same decisive weight as the opening sentence, a very difficult thing to do." Sam Abrams, El Punt Avui
"I have read some of the tales of Cançons d'amor i de pluja, by Sergi Pàmies, a filigree of style and emotions, with tears in my eyes, while with others I have laughed a lot." Jacinto Antón, "Quadern", El País
"Well-writen, essential tales, very trademark Pàmies." Jordi Llavina, El Mundo Tendències
"The writing of Sergi Pàmies is striking and needs a slow and repeated reading, bit by bit. But then one returns to the daily life's stream filled with a wild joy, freed from the burden of false idols, half-hopes and half-nostalgias that fog up the mirror." Manel Ollé, L'Avenç
More on Sergi Pàmies' biography and bibliography from the Catalan writers' association and the Wikipedia.
[Most of the information reproduced here comes from the publisher's website.]