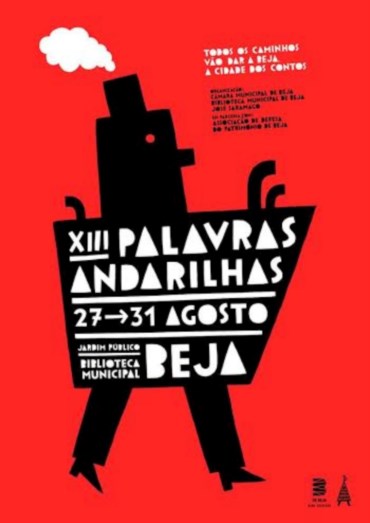 This week, the Portuguese city of Beja (Wikipedia) offers a festival of story-telling in the public park. It is called "Palavras Andarilhas" [Wandering Words], edition no. 13, and there will participate storytellers, writers, illustrators, "reading mediators" and readers. The festival is made up of the "Storytelling Festival", the meeting of "storytelling apprentices", a book market, the first library of cloth books from all over the world, and the "whisperers' forest", and a lot of music and spoken-word accompanied by music events (official website).
[Translated article excerpts:] Asked why we tell stories at all, Cristina Taquelim, a librarian at the Beja public library and the festival's organizer, answered the following: "For nothing. Because not everything one does in life needs to be good for something. We live in a world where everything we do has to have a utilitarian nature. The stories are just to be together to listen. And with that listening, solve us as subjects, organize our history. […] There are people who tell stories to be loved, and others listen for the same reason. " As to storytelling for children who come to the library:  "Storytelling for kids has a very important function. The children develop their vocabulary, structure their verbal utterances, develop their imagination. Somehow, afterwards they seek and apply all of this directly in the context of reading, in the relation with a book, all these skills that have been built from listening." But the component she values most is relational: "We work a lot with parents and children. With the little ones we notice, and all parents confirm this, a good quality of time" the story-telling contexts can give to the relationship between parents and kids. The festival has got time and space for workshops which bring together parents and children, tale sessions for all ages and tastes, and a playful journey with texts of different poets.
And adults, what do they seek in the stories? "There is a very special enchantment of adults in relation to story-telling," says Taquelim. "If the tale has a strong symbolic charge, the adult dives into it as does a child." And she talks of her experience inside and outside the library. "I realize a lot of interesting things, especially in older communities, senior citizens, with whom we work a lot. One finishes telling a story, and there is a need for the person to put it in the geography of their life. The tales also serve for this." She reminds us that stories can lead us to paths of no return and to circumstances where we immediately project ourselves. "This has to do with the history of human beings themselves. Human nature needs to hear and to tell." Perhaps that's why the most magical sessions are those that are part of the "Storytelling Festival", under the motto "Eu conto para que tu sonhes"     [I will narrate so that you dream].
The "Storytelling Festival" will take place Friday and Saturday night; among the participants are Ana Santos, Ana Sofia Paiva, Avelino Gonzalez, the duo Estupendo Inuendo, Estrella Ortiz, Jorge Serafim, Luís Carmelo, Luzia do Rosário and Vitória Gullon. Each night, the first story will be translated into Portuguese sign language.
There are expected 400 registered participants plus a lot more people coming to those events that are open to the general public.
An example of a story heard by Taquelim and narrated to the journalist is this: "An illiterate woman from Cabeça Gorda [a parish of Beja], forced to go to work far away and to leave the children with her parents, accorded with her children: I will send you a letter: if it is full of crosses, it is because things are going badly; if the letter has birds and flowers, it is because things are going well. After two months, the children receive a letter full of birds and flowers." [End of excerpts of a longer article]
Source: Público, August 27, 2014