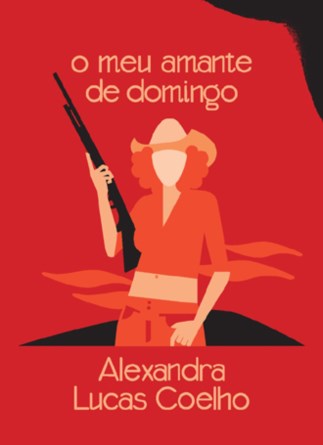 José Riço Direitinho, in Público, heaps praise on Alexandra Lucas Coelho's O meu amante de domingo [My Sunday lover].
The publisher's summary:
A woman is determined to kill a man, between her home in the Alentejo and her Sunday trips to Lisbon. For one month, between June 16 and July 16, 2014, we follow the torture plans, the book she decides to write and the different complices: lovers, friends, alive and dead. The target of her revenge is a cowboy, more often called f*cker or motherf***er, because she is a tripe eater [?] from Canidelo [neighborhood in the northern Portuguese town of Vila Nova de Gaia].
Riço Direitinho's review, entitled "Liberdade e raiva" [Freedom and rage], starts as follows:
A unique character in recent Portuguese literature: a 50 year old woman, blonde, a proofreader by profession, a newcomer to the Alentejo region who drives her 1994 Lada Niva [mini-] SUV to Lisbon on Sundays to look after the cat of a friend (away in Rio de Janeiro), to swim, and have romantic encounters with a mechanic, her Sunday lover. She plans the death ("Wheel?, Garrote? Crushing by elephant's foot?") of a man 16 years younger than her (the "cowboy") with whom she was involved for one month, and she wants to write the story of this vengeance that will gradually develop. "No matter who the guy is or what he did, but the hole that opened. (…) The hole closes with everything inside, and the details of what happened will fade as burned skin, because the new skin has a hazy memory of the former, as in the the memories a grandson has of his grandfather's wars. What stands out clearly is vengeance, vengeance for having been abused, vengeance of honor." If one wants to compare her to another character it could be, though somewhat forced, to Maria dos Canos Serrados of Ricardo Adolfo's homonymous novel; the similarities are mainly that of language and a desperate desire for freedom.
The are an anger and a rage, born in the summer of 2014, that have Portugal as their cause. There is a willingness to fight resignation, against the traditional acceptance of tragedy that has long gripped the country.
The reviewer describes the book as entertaining, with a lot of short chapters and references to the chronicles by Nelson Rodrigues, or to Machado de Assis, Euclides da Cunha or Joyce. He sees it in the 20th century tradition of "plasticity of narrative language" as exemplified by Carlos de Oliveira, Nuno Bragança, José Cardoso Pires, some works of Augusto Abelaira, and the singular voice of Maria Velho da Costa.
More information on the journalist and writer Alexandra Lucas Coelho (Lisbon, 1967) can be found here. None of her previous six books has been translated into English yet.