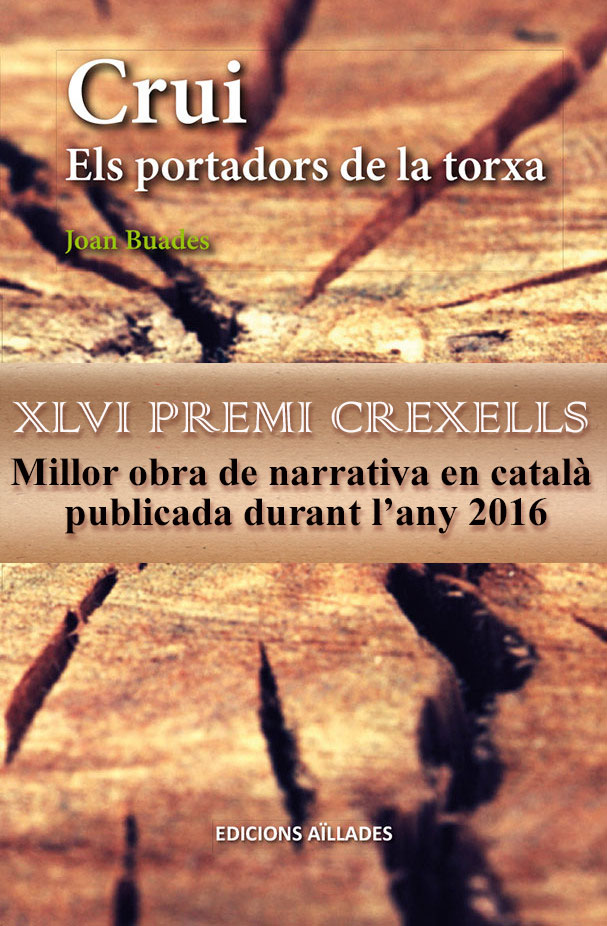 Joan Buades, Crui. Els portadors de la torxa [Crui. The torchbearers], 2016, 301 p.
Premi Crexells 2017
The project summary came in Catalan, but the novel's publisher, Edicions Aïllades, provides a (somewhat difficult to understand) summary in English.
Some additional information from the original project summary:
It's a psychological novel with a historical background in which we get to know an old man who is about to celebrate his farewell to a rich and full life… until an unexpected event gets him to start a rap dive into his particular hells. Because, more than anything else, Crui is an exploration on the limits of Evil and our individual and collective capacity to construct perfect stories where life is made of darns and cracks. On the way we recuperate forgotten stories that are at the base of today's Europe and the Mediterranean, marked by the sleepwalking of the elites, by the neoliberal delirium and by the permanent party of tourism. And we talk a walk in such diverse places as Barcelona, Königsberg, South Tyrol, Majorca, the City of London, Tànger, Ibiza, or Lemberg/Lviv, in a memorable periple.
The work is especially addressed to readers who like to spend pleasurable moments with documented novels, able to provoke in them at the same time fascination and repulsion of unexpected characters and environments. Feelings that will remain once you get to the last line…
According to the literary critic Julià Guillamon, the Crexells prize is "the most important one awarded for a published work written in Catalan." Guillamon is not convinced of the work's originality, he thinks its "narrative agility could be improved", and he considers it "a lively novel, somewhat boiled".
This blogger doesn't know what to make of the novel, maybe he should read it. He generally prefers literary awards for published works to those (more common in Spain) by the publishing houses for unpublished works by favorite writers that garantee them good sales in exchange for a generous advance on royalties in the form of a literary prize with a prestigious name that often evokes a lost prestige of the past…
SOURCE: Edicions Aïllades; Verkami (crowd-funding site); "Cultura/s", La Vanguardia, July 29, 2017, p. 7 [printed edition]